PowerPoint Presentation plays a key role in promoting and making your product/services reach your target audiences. Delivering your ideas in right way is first step. There are different tools that can be used to create engaging presentations. Here are few basic ideas:
1. Role of shapes in PowerPoint Presentation

Shapes not only add elements to a PowerPoint presentation but also make boring text look AMAZING and INTERESTING.
You can add them by clicking on "home" tab and in "drawing" section select shapes of various types such as circular, rectangular, rhombus, arrows and a lot more.
You can also format them changing colors and adding effects such as shadows, reflection etc. With this easy idea you can make your Slide Design interesting. See the example below of before and after.
2. Icons
Icons are symbols or graphic representation of a word or sentence for e.g., calculator for financial analysis. They give a preview of what the presenter wants to convey through the text. They can physically break up a page of text making it more interesting and appealing to read.
Icons convey message more easily than text and can surpass language barriers. There are various types of icons such as line icons, filled icons, colored icons etc. See the example below of before and after.
3. Adding Diagrams in PowerPoint Presentation

To make slides appealing, you should use less text and more visual content. That's where diagrams come to a great help.
Diagrams not only add visuals to slide but also make it interesting. It helps in highlighting major points for e.g. in comparison slide a diagram can help in making positives and negatives distinguishable by using varying colors and icons in diagram.
It help in replacing simple text with more interesting and visually appealing info-graphics. Diagrams can be used along with icons also according to your content. See the example below of before and after.
4. Images
Images helps in achieving a emotional connect with the viewers. It adds colors to your slide. There are many option in powerpoint to add images in various shapes and effects.
Add images by clicking on "Insert" bar and then select "picture". You can choose pictures from your gallery or you can also add them by searching online through "online pictures" option. See the example below of before and after.

5. Vectors
Vector graphics is next step that can be used in Slide Design. It is a type of graphical representation using lines and shapes to construct the outlines of objects.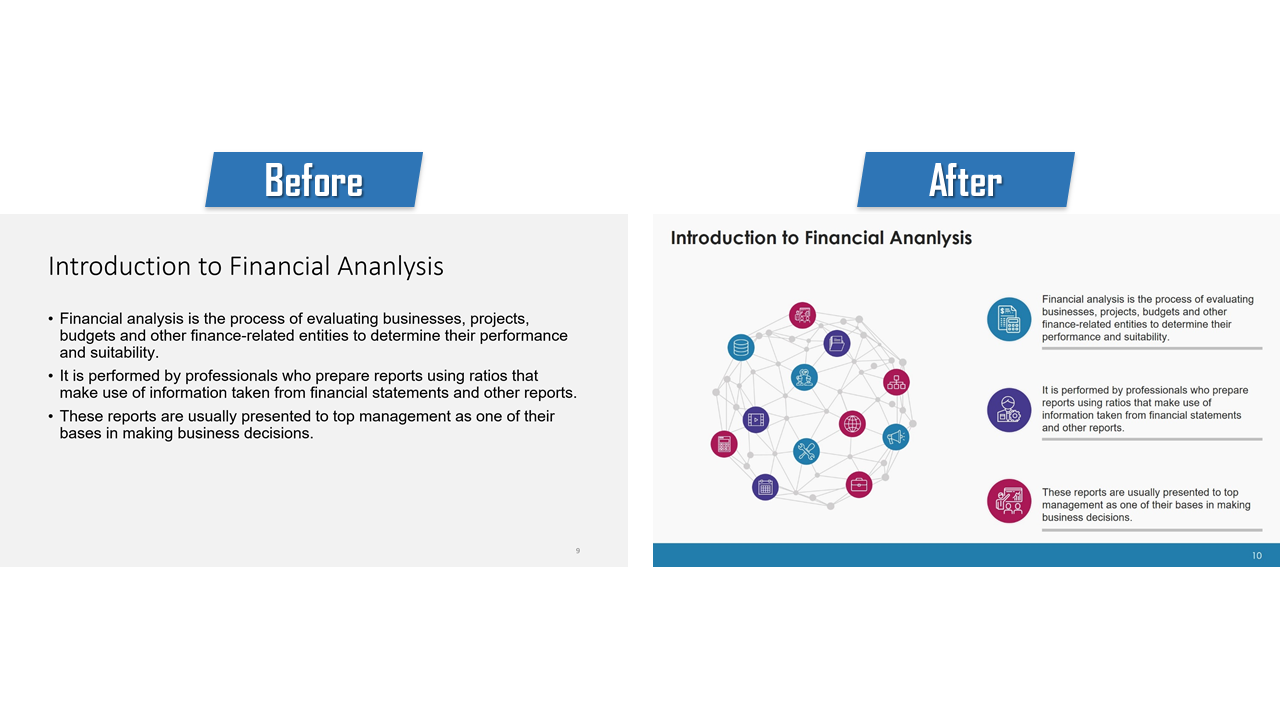 Vector graphics are more flexible than images because they can be easily scaled up and down without any loss to the quality of the image. You can easily change the colors of vectors to match the branding of your company and also edit them as per the requirements. Vector files are small in size because they contain a lot less data than image files that also makes your file size low.So overall, Just by using these simple steps, you can make PowerPoint Presentation interactive.
Thank you for going through this blog. To learn more please visit: https://slidemasterz.com/blog/